St. George Plantation Shutters
At Sunburst Shutters St. George, we design and install custom plantation shutters that complement your home. With our team of experts, and backed by our premium brands of plantation shutters, we offer your windows a design and advantage that our competitors can't compete with. It's a point we take pride in, and with our amazing customer service, our goal is to give your windows the treatment they deserve.
No matter what type of plantation shutter you choose, you'll love the beauty and durability that Sunburst Shutters offers. Explore our types of plantation shutters, and learn about the advantages that our unique line of window treatments offers.
The Best Custom Plantation Shutters
Because of our commitment to quality, our custom plantation shutters are designed with expert precision to offer total control over light, noise, temperature, and privacy. Our premium interior plantation shutters are customized to fit any window shape or size and provide outstanding energy-efficiency benefits that other window coverings can't. Our energy-efficient plantation shutters help you save on heating and cooling costs. All Sunburst Shutters window treatments are backed by the best lifetime warranties.
Whatever your needs might be, from specialty window shapes, to color-matching, to frame styles, we have the best indoor plantation shutters in St. George.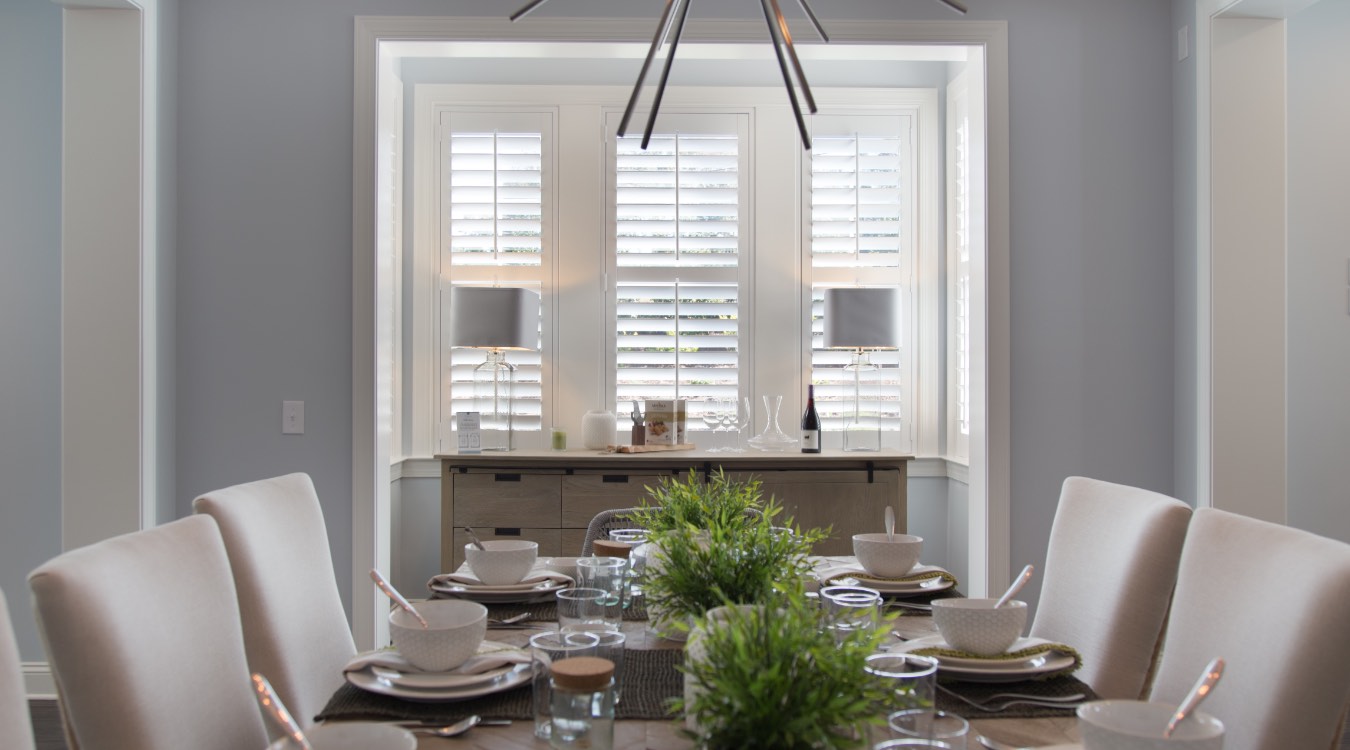 Why Choose Plantation Shutters For Your Home?
Not only do our custom plantation shutters help you save on energy costs, but as a result of the way they're installed on your window, plantation shutters are a low-maintenance, permanent fixture designed to complement your home. When you're ready to move and your house is appraised for resale, plantation shutters add to its estimated value. It's a benefit that comes with choosing plantation shutters as your window covering, but because of our commitment to high-quality construction, excellent customer service, and exceptional brands, Sunburst Shutters offers top-of-the-line solutions that tower over the competition.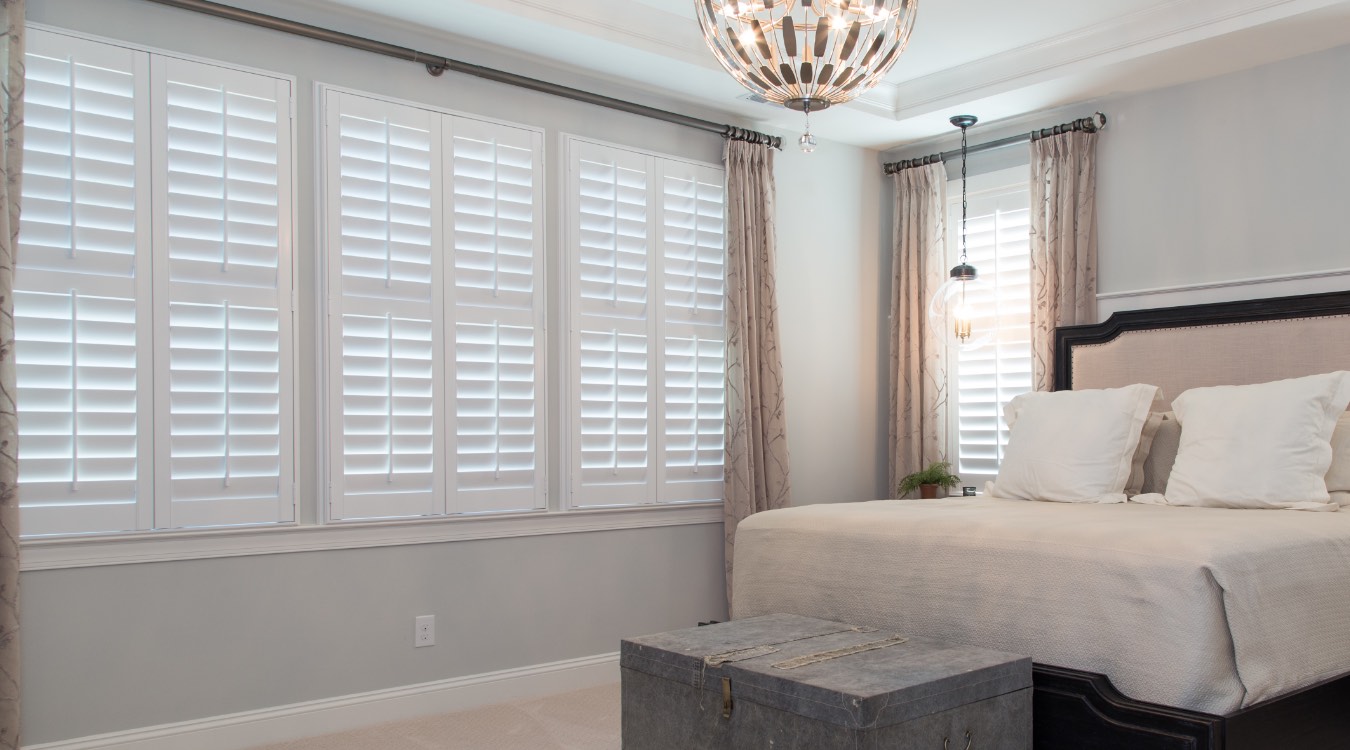 Customize Your Plantation Shutters to Fit Your Style
We custom-build your plantation shutters to enhance your window and your decor perfectly. We provide you with these high-quality brands to make sure you love your shutters for life. Schedule a free in-home consultation, and see how plantation shutters can transform your home.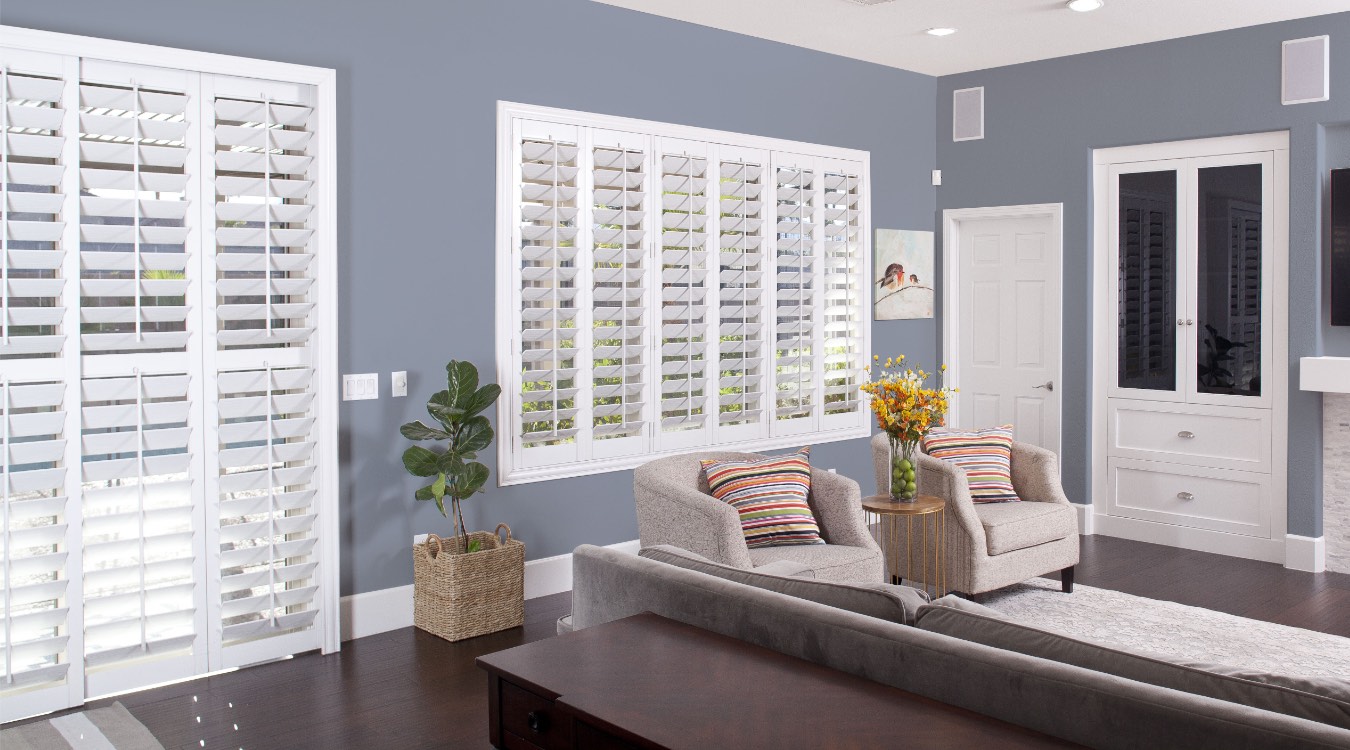 Made from an extruded wood substitute, Polywood® plantation shutters won't split, chip, warp, or crack. Not only that, but the paint finish on Polywood shutters will never yellow or fade. That's because we bake on our paint and combine it with UV stabilizers that make the premium synthetic resilient to sunlight. Through this process, the paint chemically bonds to the material, which means that no matter how hard the St. George sun shines, your interior plantation shutters look as pristine as the day they were first installed!
Polywood plantation shutters are also the top of the line insulating shutters, so your home can be more energy-efficient than ever before. Read about the Polywood Insulating System® to find out about the energy efficiency benefits Polywood plantation shutters can add to your house.
At Sunburst Shutters, we custom-make all of our Polywood plantation shutters to look great on your windows – and work smoothly when you open and close them. It's a difference that you can see, feel, and experience with our premium brands, and it's what places Polywood plantation shutters above other interior window shutter brands.
If you need a premium wood plantation shutter, Ovation is it! Ovation® interior wood shutters are made from solid hardwoods, which are kiln-dried and water-sealed to protect against moisture, so you know they are built to last. A five-star interior wood shutter, Ovation shutters come in an array of louver sizes, frame styles, and control options.
Do you have a particular color in mind to match your decor? Ovation plantation shutters can be customized in 28 beautiful wood stains and 11 stunning paints, so you're able to closely match your window trim, wall color, furniture, or complement the design of your space.
We manufacture all of our Ovation plantation shutters to cover your windows perfectly, look beautiful, and work effortlessly. Our Ovation interior wood shutters are 100% genuine wood, and they're backed by a lifetime warranty.
Studio shutters are the newest offering from Sunburst Shutters St. George. Uniquely designed to provide both the stunning looks of plantation shutters and unrivaled value, Studio shutters are a sleek, smart window solution. These long-lasting indoor plantation shutters offer durability and beauty, and come with the excellent customer service and commitment to quality that Sunburst Shutters St. George is known for an amazing value.
Unlike other economy interior window shutters, our exclusive Studio shutters are completely resistant to moisture. At Sunburst Shutters, we build our brands better. Our Studio shutters are no exception.
Custom Plantation Shutter FAQs
Why are they called plantation shutters?

"Plantation shutters" are called that due to their use in luxurious estates and plantations, especially in the Southern United States, where they were used for their classy looks and their ability to block heat from entering.

Which type of plantation shutter do you suggest for my kitchen or living room?

Each room will have some special needs. Because of that, we've created Sunburst's

Total Room Window Treatment Guide

to help you find the top choice for each room in St. George houses.

Where are your plantation shutters built?

Our Polywood and Studio plantation shutters are completely constructed and assembled in America.
Ready To Talk About Plantation Shutters? Schedule Your Free Consultation
No other window solution does as much for the look and feel of your home as our superior plantation shutters! Call Sunburst Shutters St. George today at 435-485-9332 to learn more about interior shutters or submit the form to schedule a free in-home design consultation.