What To Consider When Selecting Great Room Window Treatments In St. George
Your great room is a large open space that serves many functions. When considering great room window treatments in St. George, what you pick should be appropriate for how you use the space and the amount of sunlight it receives. You'll want treatments that make it simple to change from light to darkness, keep your windows insulated, are kid- and pet-appropriate, and look good with your room's design. You'll find many great room window treatments for sale, from multifaceted Polywood® plantation shutters to an abundance of fashionable window shades.
Select Window Treatments That Manage Light Levels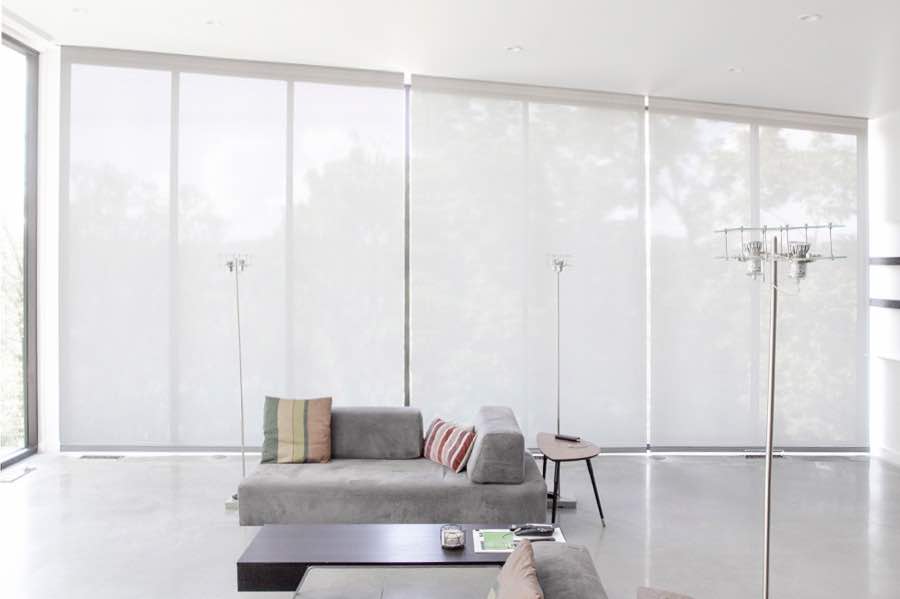 Plenty of things occur in your great room. In a 24-hour period, you may read a book, nap on the sofa, help your kids finish homework, enjoy your favorite show, and more. Everything calls for a different level of light, so you'll want window treatments that are easy to manipulate.
Sought-after Polywood louvered shutters are simple to use and provide the most possibilities for sunlight levels. Swing the panels open for full daylight when reading a book. Glare in your face? Shut the panels, but open the louvers and tilt them to a position that directs light off your face. For privacy and darkness during movie night, shut the louvers and panels to impede street lights. Even during daylight hours, Polywood shutters keep out all but the faintest glimmer of light thanks to their solid material and quality construction.
Motorized window shades make halting light easy. With the push of a button, you can lower motorized shades to direct light off of your television screen without budging from your seat. Or, program your automated motorized shades to go up and let in sunlight and then automatically lower for privacy after dark.
Maintain A Constant Temperature With Insulating Window Treatments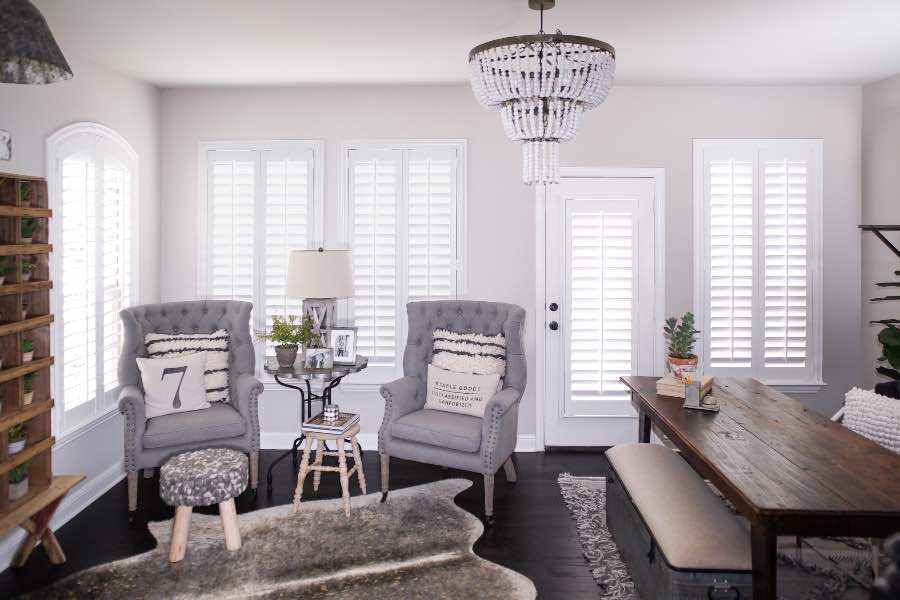 A great room is a large open living space that may require a lot of energy to cool in warmer months and heat during winter. Offer your furnace and A/C a break with the help of insulating window treatments. They will obstruct hot UV rays and chilly drafts. You can go with energy-conserving cellular shades to hinder most temperature transfer. Even so, Polywood shutters are the most efficient great room window treatments in St. George. The shutter's frame keeps sunlight and air from sneaking in around the edges of your windows, and the louvers shut completely to minimize temperature transfer on the hottest days and chilliest nights.
Enjoy Your Great Room Window Treatments For Years To Come With Resilient Polywood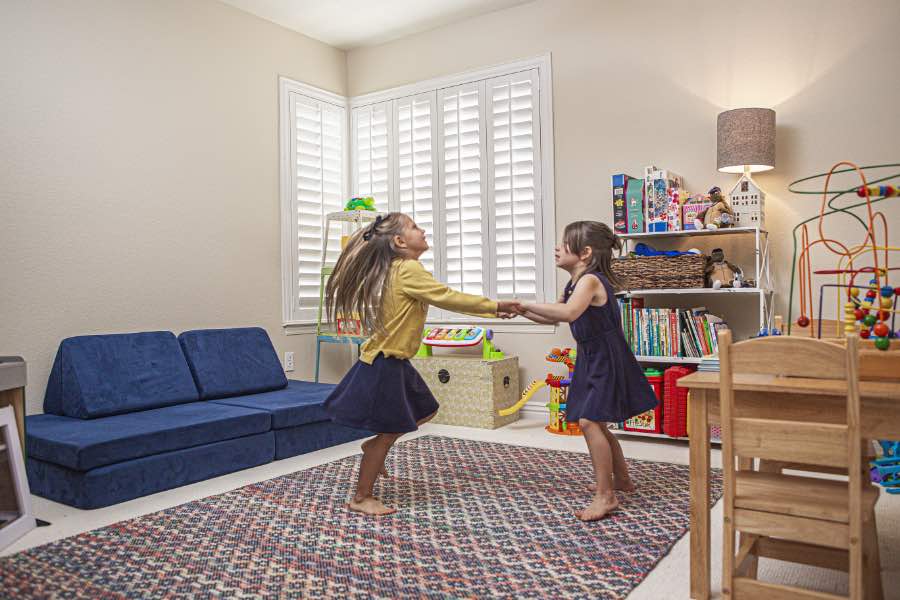 Because there's so much taking place in your great room, you require window treatments that can stand up to all types of wear and tear. Sturdy Polywood shutters aren't susceptible to damage from moisture, extreme temperatures, bugs, and sunlight. They won't deform or fracture when hit by unruly little ones. Animals can't pull them down. And even if your dog nibbles on a louver, it's easy to get a replacement part. Drapes and window shades just aren't on the same level when it comes to durability and longevity!
Match Your Great Room Window Treatments To Your Home's Design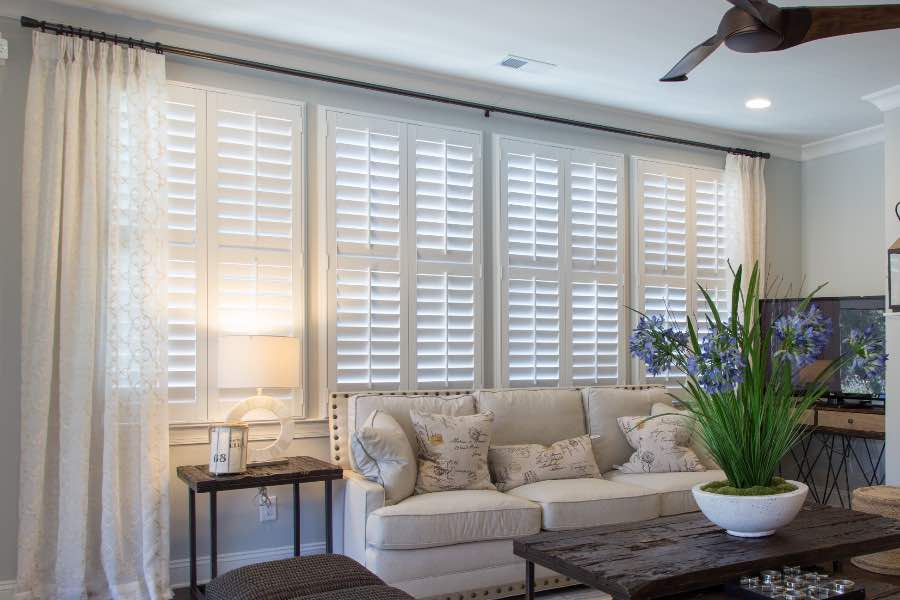 Any fixture you install to your home should go with your existing decor. That includes your great room window treatments. You can find roller shades in a plethora of colors and patterns. Or, match wood interior shutters to wood aspects in your great room. You can also utilize neutral white Polywood shutters that seamlessly coordinate with all types of styles.
Turn To Sunburst For Your Next Great Room Window Treatments In St. George
Let the window treatment experts at Sunburst Shutters St. George help you pick the perfect great room window treatments for your St. George home. Call us at 435-485-9332 or submit the form below to request a complimentary in-home consultation. We'll come with samples and showcase your favored products on your windows.