Great Nursery Window Treatment Ideas In St. George
As an expecting parent in St. George, you want to make sure every aspect of your little one's nursery just right -- and that includes the window treatments. But in advance of selecting the right window covering, keep in mind that functionality and safety are important. Babies can pull down drapes or get entangled in the pull cords of blinds. These options won't stop exterior light and drafts for optimal sleeping conditions either. Instead, use safety-focused, efficient interior shutters or cellular window shades as window treatments for your nursery in St. George.
Interior Shutters Keep Your Nursery Stylish, Safe, And Cozy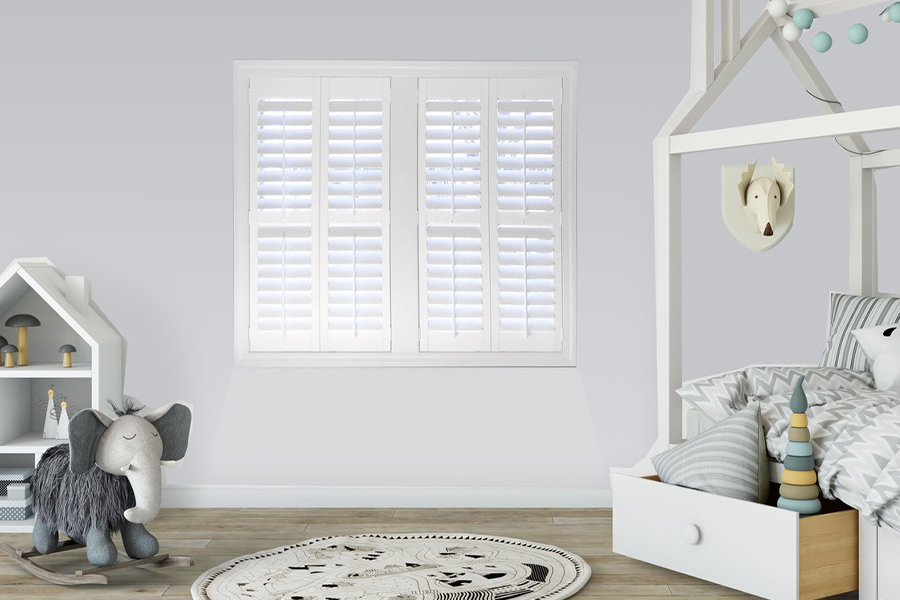 Louvered shutters may not be first on your list for nursery window treatment ideas in St. George, but they should be! These time-tested window treatments look amazing in every area. Their sturdy panels provide an eye-catching contrast to the fluffier features usually associated with a baby nursery. You can install
white faux wood Polywood® shutters
in rooms with vivid or lighter-toned color choices. Wood-stained shutters may be a better option if your nursery has more natural elements or you wish to coordinate with the present wood finishings. And whenever you change the style as your baby gets bigger, your shutters will continue to work well with the area's altered look.
Louvered shutters feature a particular construction that makes them perfect for children's spaces. In lieu of hanging curtains or cords for a child to pull on or get tangled in, plantation shutters have rigid panels with rows of louvers incorporated into a frame that encompasses the window. They also clean up easily when they get those inevitable smears from small hands.
Shutter louvers and panels offer several methods for directing natural light and privacy in your nursery as well. Pull back the panels for a sun-filled spot to play or fasten them and turn the louvers toward you to welcome partial outside light and shift it toward the floor where your little one spends time. Then secure the panels and louvers to keep out virtually all sunlight for naps and bedtime.
Closed interior shutters stop cool breezes too. Air won't get past real wood and faux wood as it does through fabric window treatments. And premium Ovation® and Polywood shutters use industry leading manufacturing techniques to minimize spaces where air could slide through. Polywood shutters also feature exclusive weather sealing that causes them to be the most energy-smart nursery window treatments in St. George and makes certain your room is always at a consistent temperature for a soothing slumber.
Cellular Shades Lend Added Efficiency and Color To Nursery Windows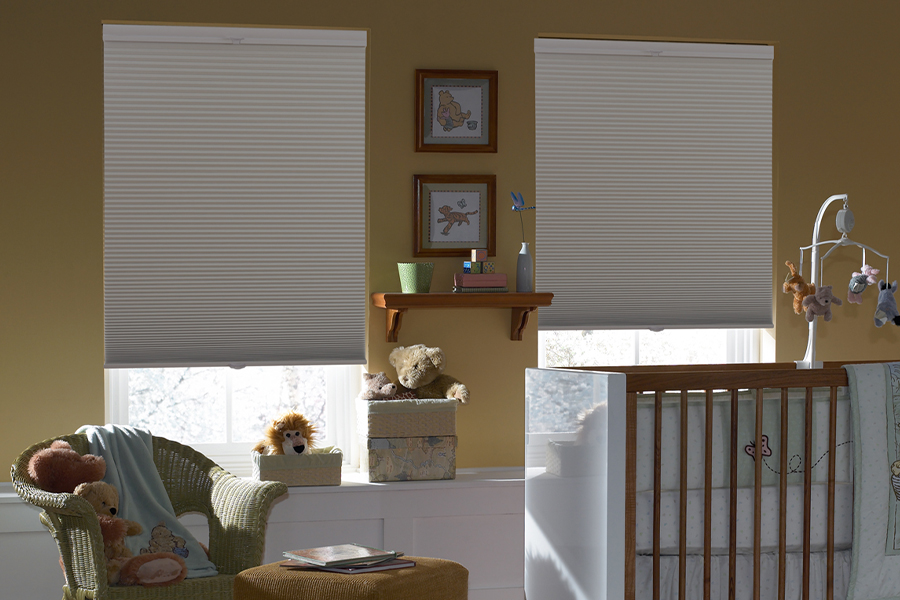 In the event you would like a softer texture for your nursery window treatments,
consider cellular window shades.
These products come in many different patterns, materials, and colors for you to pick from. You'll also find different types such as top-down/bottom-up shades that give you more versatility with sunshine and privacy or cord-free shades that a child can't become tangled in.
The top benefit of cellular shades is their ability to save energy. Their unique design creates small pockets that trap air coming through your windows before it infiltrates the nursery. They assist in keeping the room at a consistent temperature and energy expenses within reason.
Need Additional Nursery Window Treatment Ideas In St. George? Talk To Sunburst
No matter if you are looking for nursery window treatment ideas in St. George or choices for another room of the house, Sunburst Shutters St. George is here to help. We customize various window fashions that make your residence more attractive and efficient. Contact us at 435-485-9332 or submit the form below to arrange a free on-location demonstration and discover incredible window treatments in St. George.