Leading Window Treatments For Double Hung Windows In St. George
When St. George has enjoyable outside conditions, it's nice to get some fresh air and sunlight entering your home from the top of your double-hung windows. However, the vast majority of window coverings obstruct the upper pane when lowered.
If you want seclusion without restricting air and light at the top, install versatile plantation shutters or unique top-down and bottom-up shades. These window treatments for double-hung windows in St. George deliver superior control of the light, airflow and privacy of your space.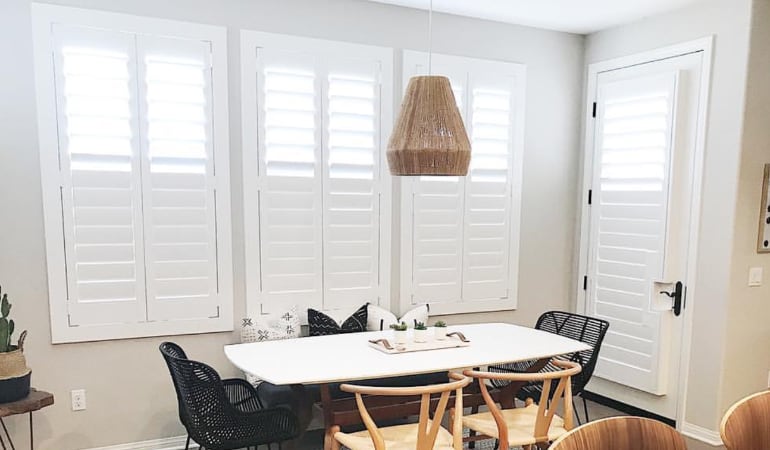 Easily Adjust Light And Airflow With Interior Shutters
Similar to double-hung windows, you can open plantation shutters in two distinct manners: swing each panel to for an unfettered window or keep them shut and tilt open the louvers with the tilt bar for the amount of light and privacy you want. Both options let in a breeze if you slide open either sash on traditional double-hung windows. For the best air circulation, pull open your shutters and crack open both sashes so cool air flows in at the lower section, and warm air escapes through the upper section.
Plantation shutters are versatile enough to work with tilting, double-hung installations. Swing your shutters at the hinge and utilize the tilt option for a rush of fresh air. If you think about it, ask your installer about having them with an outside mount so you can tilt the panes slightly with the shutter panels shut. You still have the option of adjusting the louvers to change your light and privacy levels.
You also have the choice to implement a split rail within your panels. Then you can open the top or bottom of the shutter panel to let in the light while leaving the other section shut for privacy.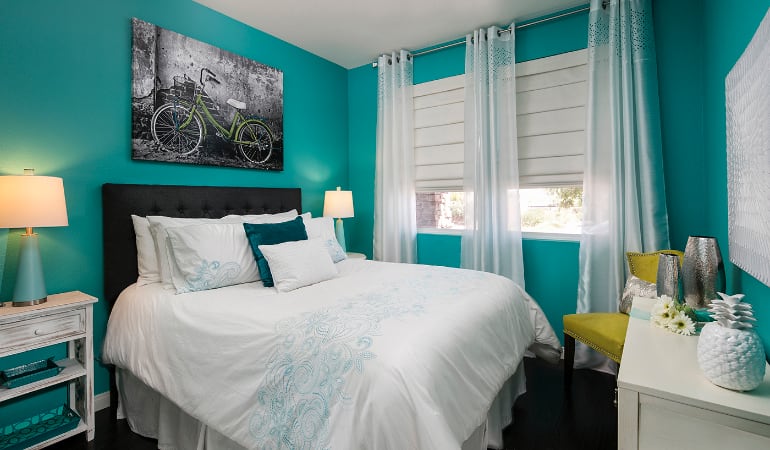 Get the Air Circulation And Privacy You Want With Top-down/Bottom-up Roman Shades
Top-down/bottom-up Roman shades can open from the top and bottom, in a comparable manner to your double-hung windows.
That is why they are a perfect complement for dual-sashed windows when your goal is better light control and airflow without the whole neighborhood looking in at you.
Open your windows at the top and pull down the top of your Roman shade to welcome air and sunlight while still blocking views at the bottom of your window. Or crack open both the bottom and top of your window and shade for optimal airflow while leaving most of the window covered.
Considering that you will have your top-down/bottom-up window treatments fully expanded much of the time, it's smart to install an option as beautiful as Roman shades. Their soft pleats and many color, pattern, and material options make Roman shades an elegant accessory for your St. George home that you'll want to show off.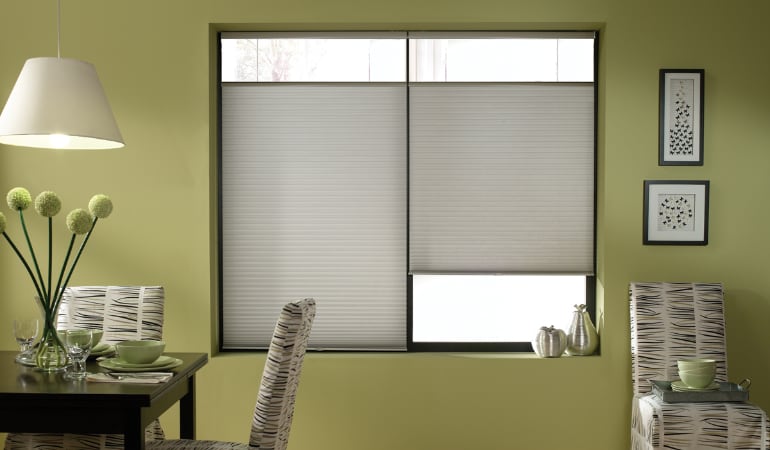 Protect Your Home's Comfort With Top-down/Bottom-up Cellular Shades
Double-hung windows offer excellent ventilation on a beautiful day, but the added functionality can cause more drafting than other installations. One fix for this potential problem is top-down/bottom-up cellular shades. Also known as honeycomb shades, cellular shades have cells within the fabric that trap outside air entering around your sashes.
This clever design also cuts down on interior air loss. Considering this benefit, these treatments help keep your interior temperature stable and your HVAC expenses down.
The impressive energy-saving ability makes top-down/bottom-up cellular shades suitable St. George window treatments on double-hung windows for all seasons. You can adjust them to match with your windows for fresh air when the weather is nice and cover your windows back up to protect your St. George house from uncomfortable outside air when faced with seasonal weather fluctuations.
Talk To Sunburst Shutters St. George About Window Treatments For Double-hung Windows In St. George
Take full advantage of your dual-sashed windows with the best window coverings from the leaders at Sunburst Shutters St. George. Our consultants will help you explore our wide selection of options and implement the right window treatment for your St. George home. Contact us at 435-485-9332 or fill out the form below to request your complimentary on-site appointment.