Kitchen Shutters and Other Kitchen Window Treatments for St. George
Picking kitchen window treatments in St. George isn't always easy. You have to find a treatment that matches your style and controls natural light. However, you also have to consider the heat and humidity from your cooking. Use the wrong window treatment, and you get stains, warping, and yellowing coming from food splatters and steam.
Faux-wood plantation shutters are generally considered the best kitchen window treatments in St. George. They are elegant, durable, and excellent at directing natural light. Some people will also recommend a lovely roller shade for simpler decor, as they are effortless to manage when you want to open a window in the kitchen.
For Hosts And Cooks, Faux Wood Kitchen Shutters In St. George Are The Way To Go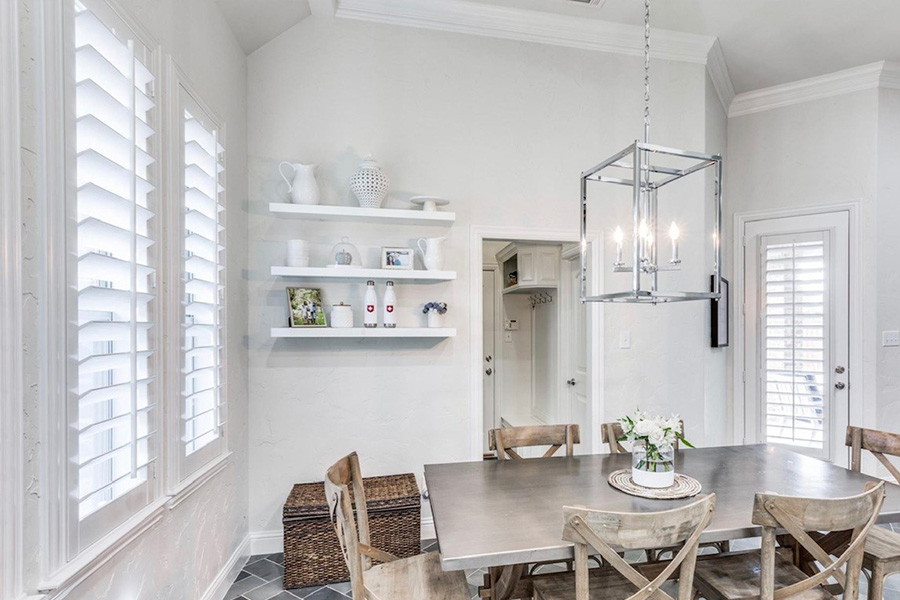 Polywood® shutters give you just about everything you would desire from a kitchen window treatment in St. George. These kitchen shutters work perfectly for home chefs and entertaining hosts because:
They resist moisture. A kitchen is a humid place. Boiling pots, simmering skillets, and running dishwashers create steam that can spell disaster for most window treatments in your kitchen. Polywood shutters are 100% moisture-proof and can protect from the warping and yellowing from exposure to humidity.
They're effortless to clean. Let's face the facts – every kitchen gets sticky. Food splatters and greasy fingerprints are a piece of cake to wash off from a faux-wood shutter. Simply wipe with a moist cloth to get them clean and ready for guests.
They look beautiful with all decor. They say that all parties end up in the kitchen. Luckily, the neutral white of Polywood lets these kitchen shutters to blend into all kitchen styles. So whether you have a butcher block, Silestone, or marble countertop or natural wood, black, white cabinets, your window treatment will blend in perfectly.
They can control sunlight perfectly. In your kitchen, natural light can be both good and bad. For instance, you want some sunlight to wake you up every morning, but there's some glare from the rising sun. With a louvered shutter, you can tip the louvers and redirect the sunlight, so it shines in and doesn't blind you.
Roller Shades Bring Some Simplicity ToSt. George Kitchen Window Treatments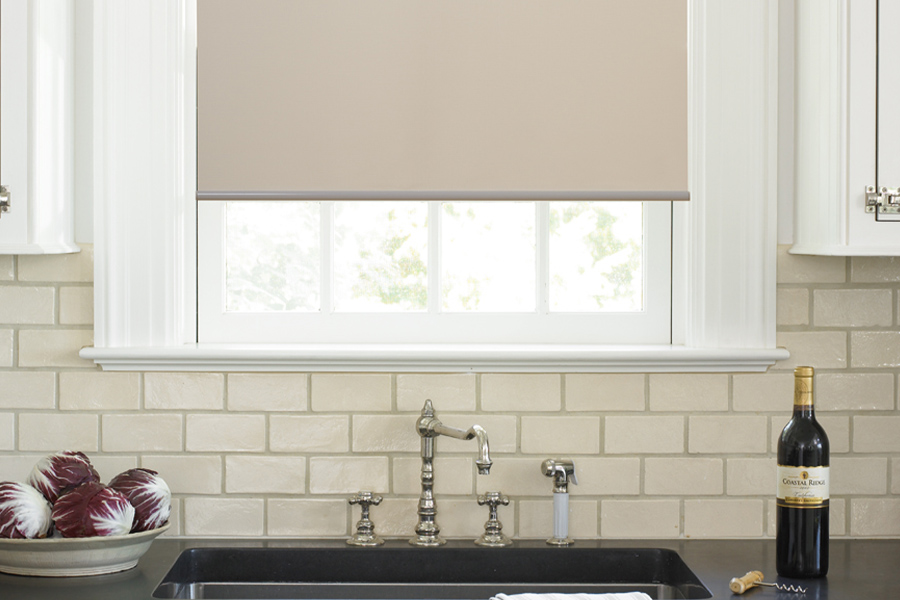 While interior shutters are the most preferred choice for your St. George kitchen window treatment, they aren't the only thing that does the job. Some St. George residents prefer a easy-to-use roller shade to complete their interior design.
Roller shades can offer a few advantages that other kitchen window treatments don't. For one, they lay close to the window and are simple to operate. Just give them a little pull, and they'll rise and lower easily. You can adjust them to any height to stop glare but still let in natural light. And you can buy a cordless style, so don't be concerned about anything hanging down in the sink when you're rinsing your dishes.
But above all, homeowners buy roller shades because of the variety of patterns and colors available. If you have a fairly monochromatic kitchen filled with whites and greys, you can choose a fiery red or emerald green - maybe a hue to match your kitchen table linens. If you have black or dark cabinetry, you can pick a lighter color or perhaps a sheer fabric that lets in a little sunlight when closed.
The Kitchen Of Your Dreams Isn't Complete Without The Best Window Treatments
Trust roller shades and faux wood shutters when you want unrivaled St. George kitchen window treatments. Sunburst Shutters St. George can assist you in finding the ideal window treatment and then custom make them to fit your windows perfectly. Contact us at 435-485-9332 or submit the form below to set up an in-home consultation.