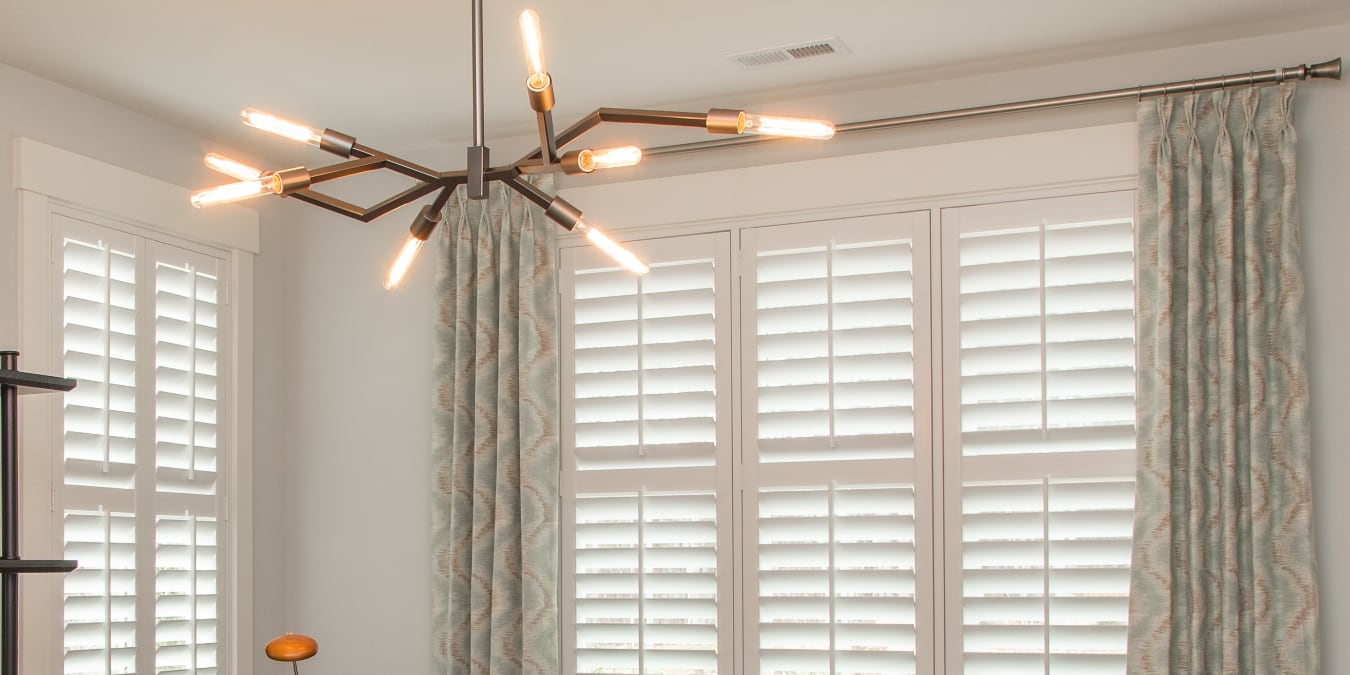 Home Office Window Treatments In St. George That Work For You
If you are one of the many people working remotely during these unprecedented times, you likely need help in upgrading your St. George home office. A good place to start is your window treatments. Need to see a quick comparison of the different home office window treatments?
Click here to view our window treatments chart, for window treatments perfect for your home office.
Options like plantation shutters and motorized window shades are popular home office window treatments for St. George professionals who would like to have a distraction-free and comfortable work setting without compromising your home's unique design. These treatments are even capable of helping you look more professional during online conferencing! Read how you can utilize these window treatments to your advantage.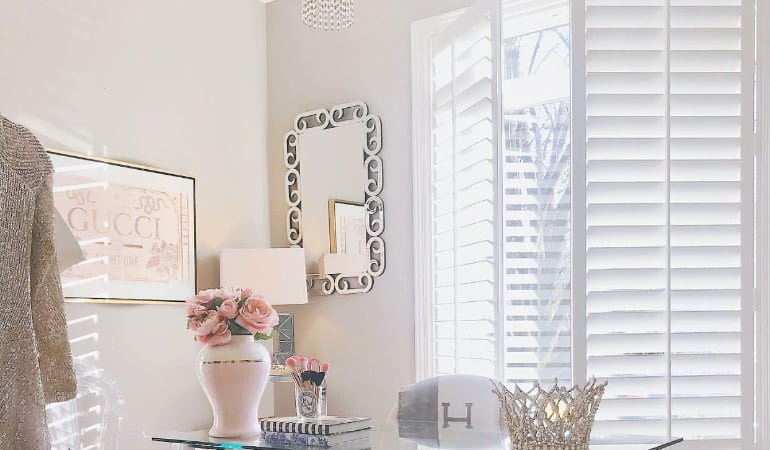 Plantation Shutters: Versatile Home Office Window Treatments In St. George
Working from home can be challenging, so select home office window treatments in St. George that create the most pleasant environment possible. The time-tested craftsmanship of plantation shutters makes them a winning option when you need to manage your workspace's lighting and comfort levels.
One of the perks of working from home is that you are in charge of the comfort levels. Even so, you don't want to increase your utility costs by running the HVAC every hour of the day. Insulating Polywood shutters are a smart alternative. On a hot, sunny day, shut your plantation shutters to maintain a cooler home office and eliminate the glare on your display screens. In the winter, that insulating ability helps reduce drafts.
Want to lower your electric costs or tired of lackluster lighting? Shift the tilt rod on your Polywood shutters for natural light that you can move away from your computer display and into other parts of your room. Close the slats back up to limit distractions like noises and passersby. Or shut your shutters for privacy at night when you stay up late working.
If you're looking for pizzazz in your home office, the fine edges of interior shutters create a dazzling architectural detail that enlivens even the most basic of windows. They can be found in a multitude of adaptable colors as well. Whether you pick fashionable white plantation shutters or a warm and welcoming hardwood shutter, your new home office window treatments will make you excited to work from home!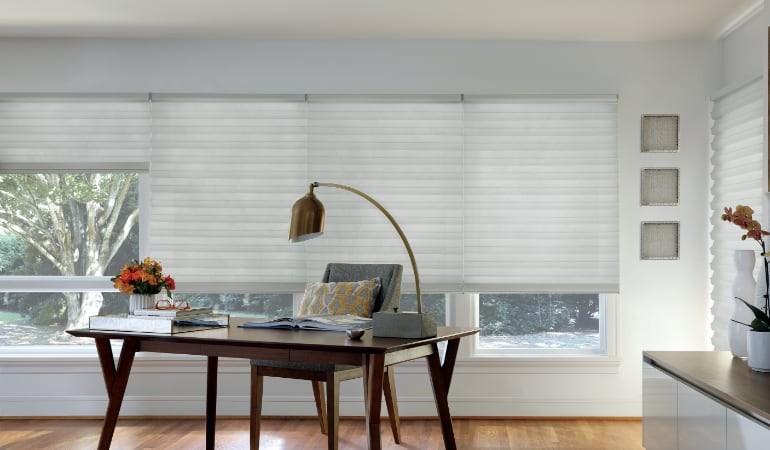 Motorized Window Shades Provide Variety And Convenience for St. George Remote Professionals
Like interior shutters, many styles of window shades offer coverage and insulation for your home office. Blackout roller shades minimize sun glare. Eco-friendly cellular shades fight off drafts and keep warm air in. Transitional shades let you choose between filtered natural light or total darkness.
Window shades are available a range of colors, textures, and materials to suit your tastes and deliver the work atmosphere you'd like. You may enjoy something stylish like Roman shades that provide a great background during video conferences or a practical product like roller shades to eliminate outside disturbances.
If you've decided on the kind of window shade you wish to install, get the motorized option to upgrade your space even more. Motorized window shades function with a remote controller instead of your hands. This provides an effortless method for adjusting the amount of light in your home office.
When the sun moves and a glare breaks your concentration, you are able to shut your shades with the press of a button without getting up. If the sun is making you look washed out on a remote meeting, or you see that your work area resembles a dungeon on your monitor, you can lower or raise your motorized shades right from your workstation without disrupting meetings. Your boss and colleagues will be impressed with your work from home set-up when you customize your home office window treatments in St. George.
Are You Still Trying To Figure out Which Window Treatments You Should Get For Your Home Office? We've Compiled This Chart To Help You Consider All Of The Options.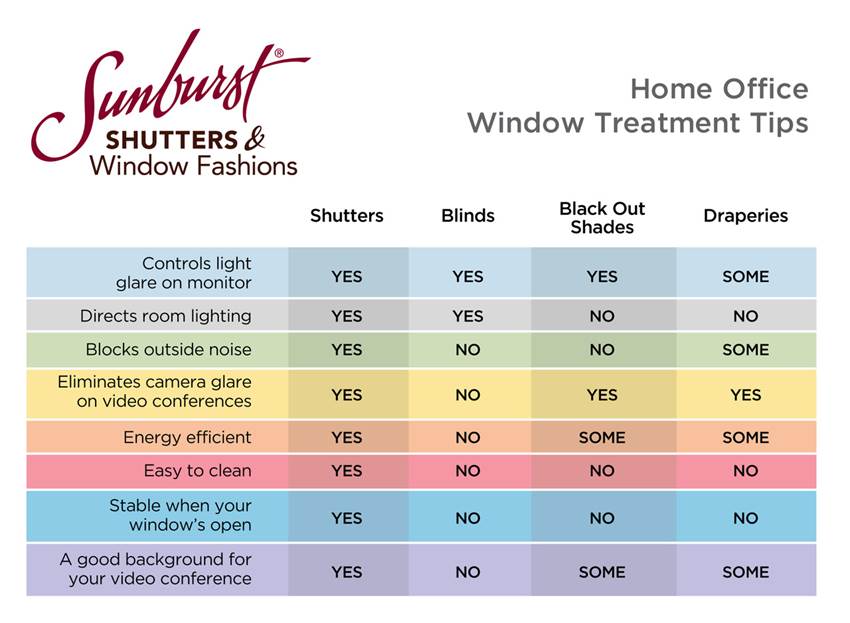 Elevate Your St. George Home Office with Window Treatments From Sunburst Shutters
You'll work better when your window treatments enhance your comfort and your privacy. Turn to the window treatment professionals at Sunburst to select the best options for your home office. To schedule a complimentary in-home consultation, dial 435-485-9332 or complete the form on this page.