Five Ways To Create An Amazing Media Room In St. George
Today's home entertainment tech makes it easier than ever before to immerse your senses in movies, gaming, and television as you kick back in your own media room. This is the rationale behind why residents of St. George continue to create home media rooms. The question is: What is required to make a fabulous home media room? From the best window treatments to soundproofing, check out these five suggestions for creating a media room in St. George that all family members will enjoy.
#1 Control Exterior Light With Interior Shutters
Few things can spoil a movie like glare on the TV. Light dimmers help, but what about outside light? Use
louvered shutters for window treatments
in your media room in St. George for superior light control. Plantation shutters feature a solid outer frame that encompasses your window to inhibit outside light. They also incorporate hinged panels with adaptable slats that close closely to provide nearly complete darkening. You might even move the louvers as you wish to redirect light away from screens or your eyes without making your space seem like a black hole.
When you install Polywood® shutters, you'll achieve a higher degree of energy conservation too. These synthetic shutters block heat from the sun and airflow to allow your media room to maintain a comfortable temp. They can prevent as much as 30 degrees of heat transfer, saving you money on energy costs.
#2 Improve Your Media Room's Audio Experience With Some Straightforward Renovations
As soon as you fix the illumination in your St. George media room, focus on the acoustics. Drywall works well for media rooms walls, but basement concrete devastates the clarity of sound. The easiest way to control reverberation in your lower ground media room is by inserting acoustic paneling. If you have to soundproof your media room, go with easy-to-install sound dampening or deadening solutions. You can combine those with window treatments, like shutters, to inhibit noise from outside.
#3 Invest In The Proper Electronics
The right electronics will provide superb audio too. Start with your surround sound system. Many residents select devices with Wi-Fi capability as you won't have to trouble yourself with concealing wires.
Don't forget about getting a fantastic TV. LCD and LED TVs have brilliant pictures, but 4k units typically have superior contrast and extremely wide viewing angles. You could also go with a projector-style setup for that larger-than-life display in your media room. No matter what video option you pick, place it further up your wall for the best viewing angle.
#4 Choose Comfy Furniture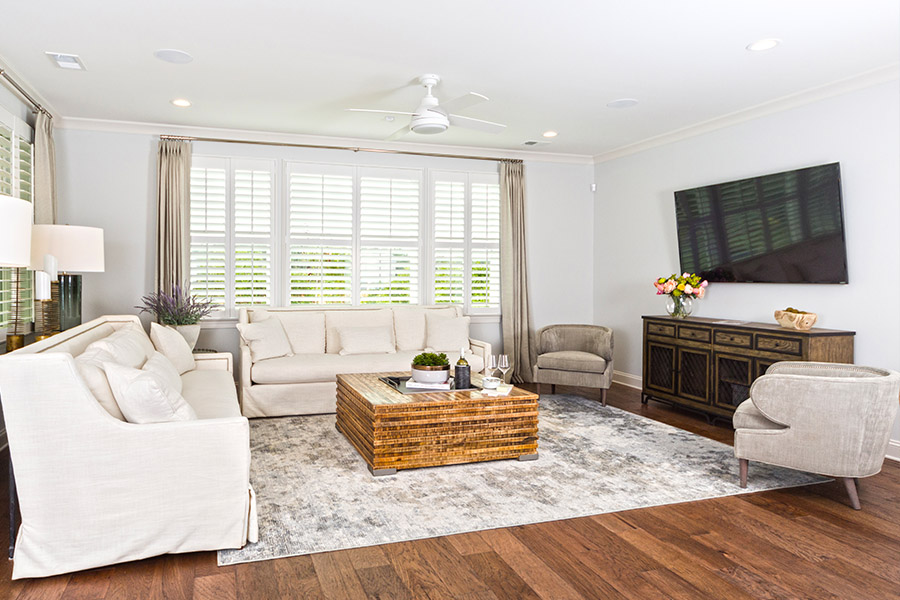 It's hard to be entertained by your favorite show without a comfy place to sit. If you're going for home theater vibes, try to find the appropriate chairs with reclining backs and built-in cup holders. If you plan on gaming, buy some gamer chairs. An oversized sectional is a smart choice as well. And don't forget some blankets and pillows to hunker down for those movie marathons.
#5 Customize With Your Favorite Theme
You can decorate in whatever fashion you want when creating a media room in St. George. Do you love Old Hollywood? Is your goal to give the impression that you're sitting in a real theater? Framed movie posters, a classic popcorn trolley, and bold colors will reinforce the intent of your media room.
If you want a more toned down look, focus on a favorite color scheme. Warmer shades with wood accents and complementary Ovation® shutters will have your media room feeling comfy. You might also make it light and airy with soft neutral hues and Polywood shutters.
Talk To Sunburst About Window Treatments For Your Media Room In St. George
The professionals at Sunburst Shutters St. George are here to help you pick the best window treatments for your media room. At your no-cost in-home meeting, we're happy to reveal how samples look in your home before making your ultimate choice. Schedule yours today by calling 435-485-9332 or by submitting the form below.