Contemporary Kitchen Window Treatments for St. George Homes
With regards to looks and practicality, the best kitchen window treatments are faux wood blinds or faux wood shutters.
What makes them great for kitchens? Faux wood shutters and blinds are the best at standing up to the messes and moisture of the kitchen, in addition to giving you privacy and fantastic looks.
Take a look at how these window treatments can stand the heat, and stay in the kitchen in St. George homes.
Faux Wood Shutters Are A Kitchen Window's Best Friend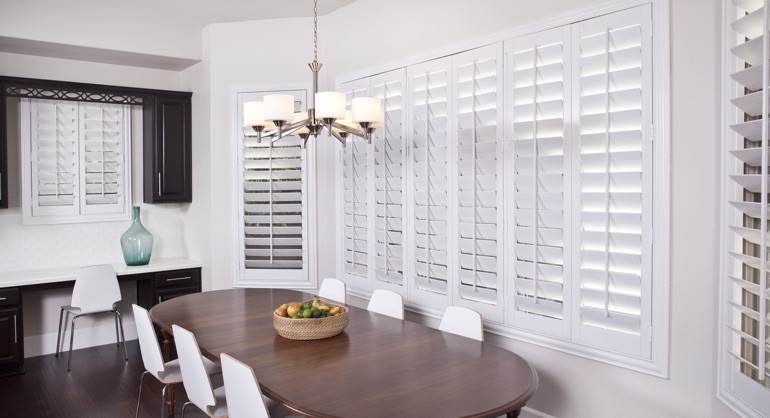 It should be moisture resistant. Steam from boiling pots of water, splashes from cleaning off dishes, or spilled drinks can destroy the appeal of most window treatments. Faux wood shutters are 100% moisture-proof, in addition to their protective coating and finish.

It should be easy to clean. It's a fact – kitchens get messy. So when that tomato sauce flies toward your window and onto your shutters, all it takes is a wipe with a slightly wet cloth to make them look brand-new.

It needs to be easy to use. Need to open your window in a hurry to let steam from dinner escape? Need to set that fresh apple pie on the window sill to cool? Shutters are easy to use, and give you full access to your window.
Most other window treatments can't do any of those, let alone all of them. Draperies and shades can easily stain, anything made of wood can mildew in a humid room like the kitchen, and metal blinds can be a hassle to operate in a pinch.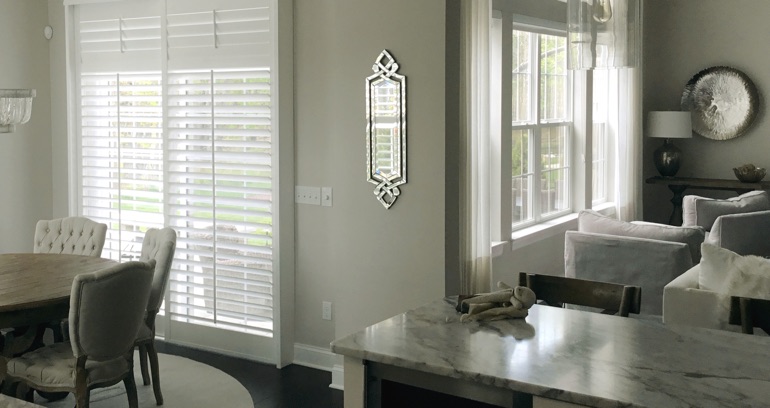 Not to mention the fact that faux wood shutters look incredible in the kitchen. With marble, natural wood and limestone countertops all the rage in St. George, faux wood shutters give your kitchen a look that's as gorgeous as any designer's best work.
That's why Polywood® plantation shutters are your kitchen windows' best friend.
Faux Wood Blinds – Elegant Window Treatment For Contemporary St. George Kitchens
Plantation shutters are our top recommendation for St. George kitchens, but they aren't the only thing that work in the kitchen. In St. George, faux wood blinds are our runner-up for best kitchen window covering.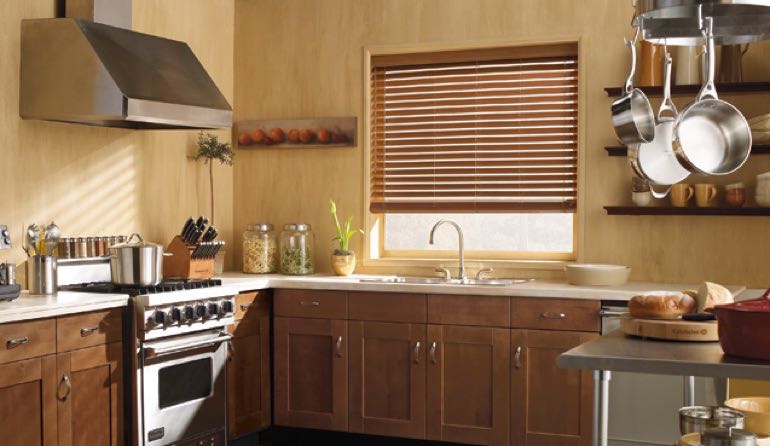 Faux wood is typically water resistant, so we're headed in the right direction. Since faux wood blinds are also stain-proof, a damp cloth will get them looking pristine again after a mess. Remember that blinds have more slats than shutters have louvers, which means more work to clean. Also bear in mind that certain blind cords could rot or shrivel after constant exposure to humidity, so be sure to ask about the cord material.
Faux wood blinds are a great addition to windows near the sink. In some St. George kitchens, an appliance or extensive cabinetry might block shutters from opening. With blinds, you don't need as much room to fully open your window.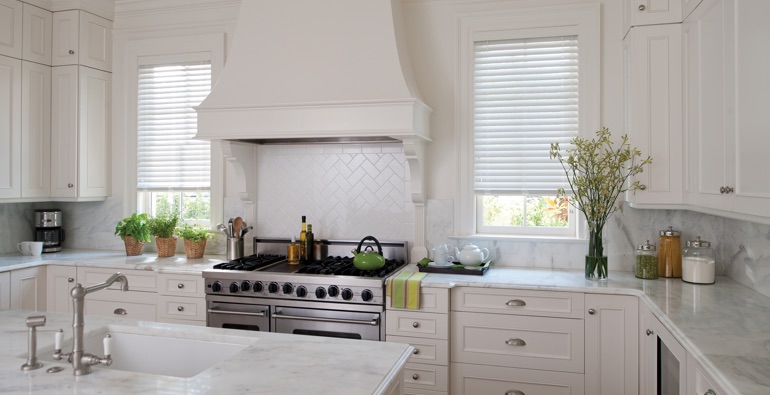 And their looks are gorgeous. They may not be as universal as Polywood shutters, but faux wood blinds can easily match other natural materials such as a marble counter or hardwood cabinets and trim.
Common Questions about Kitchen Window Treatments
Why don't you recommend fabric window treatments like drapes or shades for windows in the kitchen?
Many fabric window treatments like draperies or shades are easy to stain, which means that they're unsuited for a busy kitchen. The moisture and humidity in your kitchen might also result in mildewing.
What's the best color for my kitchen shutters or blinds?
In a kitchen, you can't go wrong with neutrals. A solid white or near-white is an awesome pick, since they'll match any new appliances or countertops you might put in down the road. Blacks and browns also work well.
What window treatment should I get if my kitchen window is a casement?
If your kitchen windows are casement windows, shutters will still work! Shutter panel cut-outs are easily made, and give you full access to your window.
Are any of these kitchen window treatments heat-resistant?
Polywood shutters are fire-resistant, and will never show discoloring even from prolonged heat exposure, no matter if it's from the sun or from the stovetop.
During a kitchen remodel, when should I install new window treatments?
Your window treatments, no matter if they're shutters, blinds, or shades, should be one of the last things you do 90% of the time. However, there's a benefit to involving your shutter company early in your project to coordinate timelines, and better match styles and colors.
Get The Kitchen of Your Dreams With Better Window Treatments
Faux wood shutters and faux wood blinds are our top picks for most St. George kitchens, but each kitchen is unique. If you want some personal attention for your windows, get a free in-home consultation with one of Sunburst's window treatment pros. Call us at 435-485-9332 or use the form below.
And for window treatment picks for the rest of your home, check out our Total Room Window Guide.