Are DIY Plantation Shutters A Savvy Choice For Your St. George Residence?
DIY plantation shutters for your St. George house might seem like a good choice at first. You get the shutters, and you try to install them based on the instructions included.
Unlike other home improvement projects, there are hundreds of ways to make serious errors when setting up plantation shutters. You might take the measurements the window inaccurately or break something while mounting the shutters. The product will then be ruined or become inoperable. And you'll have to buy all the pieces again.
Without the tools, the experience, and the finishing touches, you're at a greater risk of ending up with a mistake. Where DIY plantation shutters are concerned, the cost of a mistake outweighs any benefits. Here are 5 more reasons why DIY plantation shutters are not a smart solution for your St. George house.
1. The Right Shutter Product
The store you purchase shutters from is unlikely to have the types of products you need. And, they might not help you in determining the best shutters for a specific room. Plantation shutters that work in the dining room may not be suitable for the bathroom where they'd be exposed to high humidity. And don't forget: not all shutter products fit all windows.
Our professionals assist you in choosing the right shutters and the right options with the right frame so they last a lifetime. We offer you these top rated shutters: Ovation® shutters (five star rated wood shutters) and Polywood® shutters (the best-selling plantation shutters in the US).
2. Different Window Shapes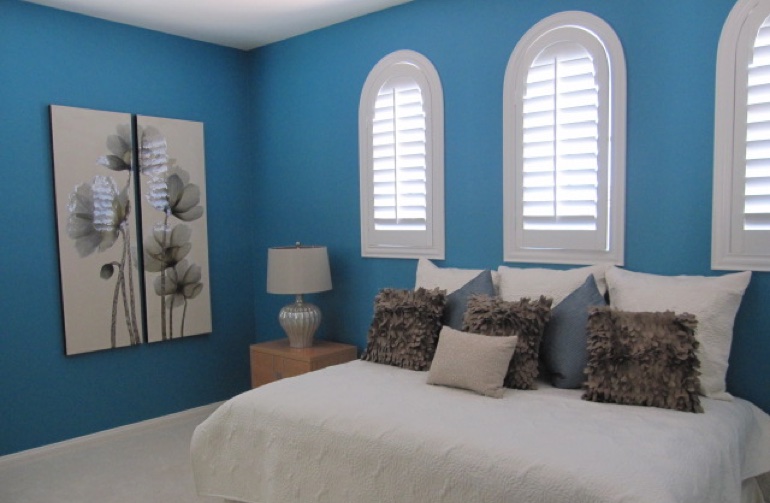 The windows in your home may be different sizes. And they may even be odd shapes, such as circle, octagon, triangle, and arched.
Most online retailers and suppliers only carry plantation shutters for rectangle windows. They don't carry specialty shaped shutters because there's so much room for errors in measurement. If they do have them and your measurements aren't correct, the shutters will be too big. This is where mistakes are made the most with DIY plantation shutters.
And what's worse, DIY plantation shutters for a special shaped window might result in shutters that don't open and close with ease. There's a chance you could install the shutter where the louvers cannot be adjusted easily.
Our specialists measure the length and width of your window - and all the corners in between. This guarantees that your uniquely shaped indoor shutters fit flawlessly. Then, taking advantage of advanced computer software and technology and relying on 40+ years of experience with window shutters, we make your indoor shutters to match your odd shaped windows perfectly.
3. Challenging Window Types
Some windows slide or tilt in. Others have a crank. If you do not leave enough clearance between the window and the shutter panels when setting up your DIY plantation shutters, you'll be left with a crank that is not accessible and a window that won't tilt in.
Our experts have seen all the types of windows out there. They've mounted indoor shutters on bay windows, double hung windows, windows with cranks, French doors, sliding glass doors - and more! We mount the interior shutters you need in the right louver size so you can easily access your window and adjust your shutters.
4. Attention To Detail
Every one eighth inch, every angle, every piece is pivotal when mounting plantation shutters yourself. You'll want to pay close attention to all the details. If the panel is not level and the louvers bind, you end up with window shutters that have tightness all over, limited functionality, and big gaps. These problem points can result in abnormal depreciation of the shutters. And there's a chance that the shutter panels won't function properly.
If your DIY plantation shutters are not installed squarely, too much pressure can build up from the weight and the usage. And this might cause the shutters to break.
Take the stress out of this home improvement project by hiring a team of specialists to install your plantation shutters in St. George, UT. A handful of local stores, like Sunburst Shutters St. George, offer a white glove service. We've been mounting plantation shutters for decades. Our professionals attend to each detail of the mounting process to make sure that your plantation shutters are stunning every time - and operate readily. You won't even have to worry about telling us to wear protective booties over our shoes (or watch for that valuable vase). We treat your home with the same care we show your windows.
5. Overall Cost
At first, the main cost of DIY plantation shutters seems to be the shutters themselves. However, the costs of materials to apply the finishing touches, the tools needed, and additional shutters parts add up faster than you think. And that's without mentioning the physical demands and stress of this project. Can you take on the entire cost of DIY plantation shutters?
Hire A Plantation Shutters Specialist In St. George, UT Today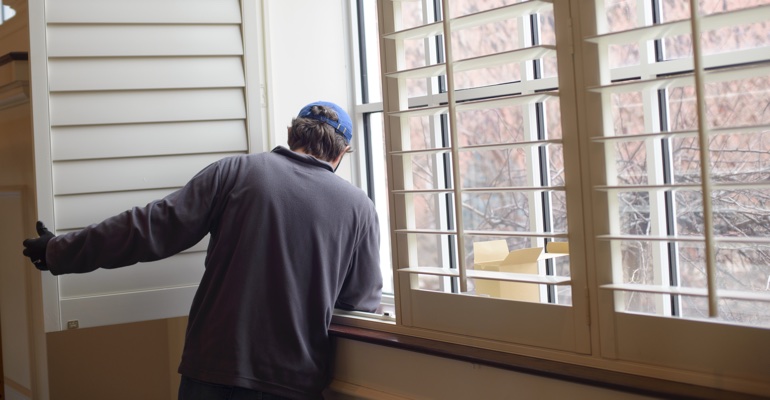 Where DIY plantation shutters are concerned in St. George, it's an undertaking for the experts at Sunburst Shutters St. George. We'll come out to your residence and guide you through the process of choosing the plantation shutters that go with your style. And we'll note the measurements of your windows accurately so we can fashion your plantation shutters to look and open and close beautifully. Why don't you let us worry about the installation details?. You'll love how stunning your plantation shutters look when we're done! (And you barely had to lift a finger.)
Call us at
435-485-9332
or fill out the form below to schedule your free in-home consultation today!