8 Great Applications for Reclaimed Wood in Your St. George Home
St. George residents clearly like reclaimed wood and how its unique attributes enhance their home décor – inside and out. It's making definite inroads as a trendsetting way to upcycle weathered wood and gloriously showcase your personal style. Reclaimed wood products draw one's gaze whether you use it on a wall, your cabinets, or – imagine it! – your windows. Think some reclaimed wood suggestions are in order? We have 8 superb ideas for you – each and every one applied to gorgeous effect in St. George homes.
1.Windows of Reclaimed Wood
Now here's a first you'll love: reclaimed wood is available to you – and none too soon! – in a window treatment. Sunburst Shutters now offers a plantation shutter fashioned from the finest reclaimed wood. In truth, Sunburst is the lone company providing reclaimed wood shutters in the St. George area. We searched high and low for the reclaimed wood you want and used it to give you a louvered shutter that's not only beautiful but functional.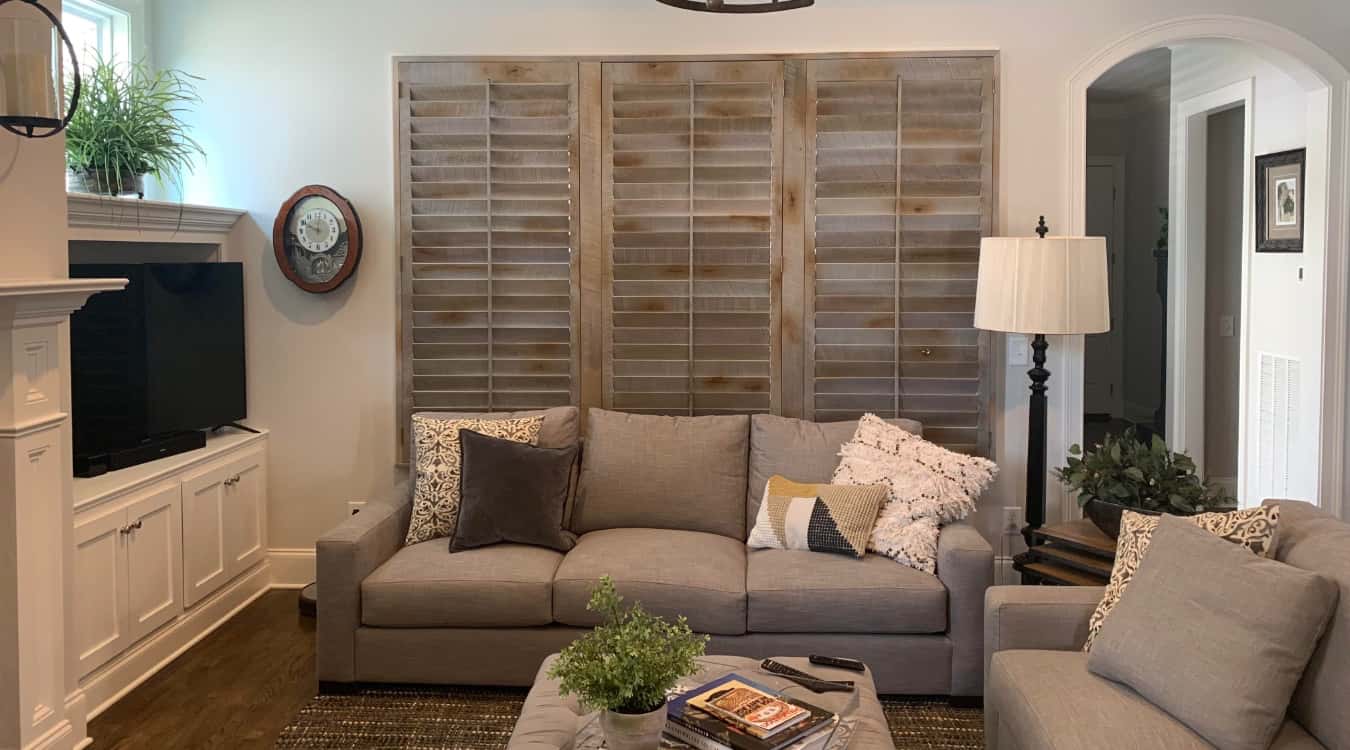 Reclaimed wood can be a window treatment like no other. It makes a difference, certainly, that your reclaimed wood shutters are a work of art in their own right. And Sunburst sees to it they are. You'll love their smooth, simple operation as well as their look. Tilt the louvers open to admit more light. And tilt them closed to enjoy fully the weathered look of reclaimed wood on your window. Find out more about reclaimed wood for windows in St. George
2. Reclaimed Wood for Your Wall
If it's the casual, rustic look of the outdoors you want in your home, reclaimed wood brings it inside like nothing else. Reclaimed wood paneling invigorates a wall without overpowering it and lends a warm atmosphere to the room. It doesn't matter if you have a TV, bookcase, fireplace, or artwork to call attention to, a reclaimed wood wall will look beautiful behind it and produce the very effect you you want.
3. Reclaimed Wood and Floors
Looking to redo a floor in your house? Wood flooring of just about any type can impart warmth to a room, but flooring of reclaimed wood has a singular beauty that says something about the time – often decades – the wood has been outside. Regardless of whether you love the outdoors or simply love the look of weathered wood, you'll be thrilled with what a reclaimed wood floor can do to make your home come alive.
4. Dress Up Your Cabinets with Reclaimed Wood
Give your kitchen cabinets a makeover with reclaimed wood. It's the natural way to revive your entire kitchen. Each panel of reclaimed wood relates an amazing tale – of decades [[spent in an old building, maybe, or as part of a barn or fence. And a small part of that narrative will live on in your reclaimed wood cabinets, crossing your mind each time you see them.
5. Reclaimed Wood Makes a Great Table
Tabletops built of reclaimed wood can add a trendy, decidedly transcendent touch to your dining room or home office. Partner the subtle, natural hues of reclaimed wood with your décor scheme to achieve a consistent, agreeable look that comforts you – while it "wows" your guests!
6. Bookcases of Reclaimed Wood
No matter what else we might hold dear about them, books make marvelous decorative pieces. Leather, vinyl, buckram, or paperbound books and those with colorful dust jackets look especially pleasing on a coffee or end table, on a bookshelf, or in a large bookcase. Their agreeable variety is both differentiated and brought together in bookcases of genuine wood, too. And bookcases of reclaimed wood, because of their natural colors, knots, holes, scratches, and other markings, are a decidedly unusual, one-of-a-kind furnishing.
7. Pics "Pop" in Frames of Reclaimed Wood
The somewhat bleached, natural look of reclaimed wood is just so appropriate for picture frames. It actually can enhance your favorite artwork and important photos in a decidedly exciting manner. What's equally worth pointing out is that frames of reclaimed wood can be put together in a wide range of styles, so they'll harmonize with practically any look you've established for your home.
8. Reclaimed Wood for a Headboard
There's little that can refresh the ambiance of a bedroom like a smartly designed and constructed headboard. It's really a matter of preference nowadays as to whether homeowners have their headboard attached to the bed or fixed to the wall behind the bed. However you want it, a headboard constructed of reclaimed wood planking can be especially breathtaking. It's natural hues and weathered features make it well suited to a diverse number of styles, from antique to modern. With reclaimed wood, you'll discover there aren't any limits on your imagination to get in the way of you realizing the headboard that dreams are made of!
Get Reclaimed Wood Inspiration
We hope we've inspired you with these 8 ideas for getting the most out of reclaimed wood. Of course, we have a great many more ideas – ideas that marvelously underscore the beauty of the reclaimed wood shutters we alone make so readily available in St. George. Our team would be delighted to show you samples of our shutters, answer your questions, and give you lots of other great design ideas. Give us a call at 435-485-9332 to schedule your free in-home design consultation at your convenience!