3 Things To Consider When Picking Sliding Barn Doors For Your St. George House
Whether you just moved into your new home in the St. George area or looking to redecorate a room, sliding barn doors are a beautiful element to add. But what are some design tips to get started? And how do you pick a sliding barn door that matches your taste?
Here are 3 things to keep in mind when picking barn doors.
1. Barn Doors Are Perfect For Almost Any Room
The Bathroom. Sliding barn doors as bathroom doors can provide privacy with the right hardware. And if you have little ones learning to use the bathroom, they'll find it easy to slide these doors open and closed. Barn doors make potty training fun for them! Because of how the track is installed, your barn door slides closed, but might not create a tight seal over the opening.
The Living Room. Sliding barn doors are a great solution for separating the living room from the adjacent hallway or the dining room. Picking a barn door style that complements your living room décor is key.
The Bedroom. Here you're looking for sliding barn doors that provide privacy as well as a calming feel to the room. Wooden barn doors block most of the light from the windows - and from other rooms. And the bedroom feels warmer and cozier just by adding this wooden design element.
The Pantry. Sliding barn doors are a great substitute for pantry doors, especially since the pantry commonly faces the kitchen or a dining table. Glide them open to grab your Cuisinart mixer. And roll them closed to hide the disorganized snacks shelf.

2. New Ways To Use Barn Doors
Traditionally, sliding barn doors have been mounted over a doorway. In rooms where it's easier to slide a door across the wall than swing it out, barn doors are a space saver. And since the sliding barn door is going to be the focus when you enter and leave the room, you'll want to pick one that complements the the room's décor.
You can also have sliding barn doors mounted as a window covering. And our professionals will adjust the barn door panels to the window and the frame's specifications. Homeowners like to take advantage of the fact that you can easily match the style of the barn door window treatment to that of any other sliding barn doors in the room!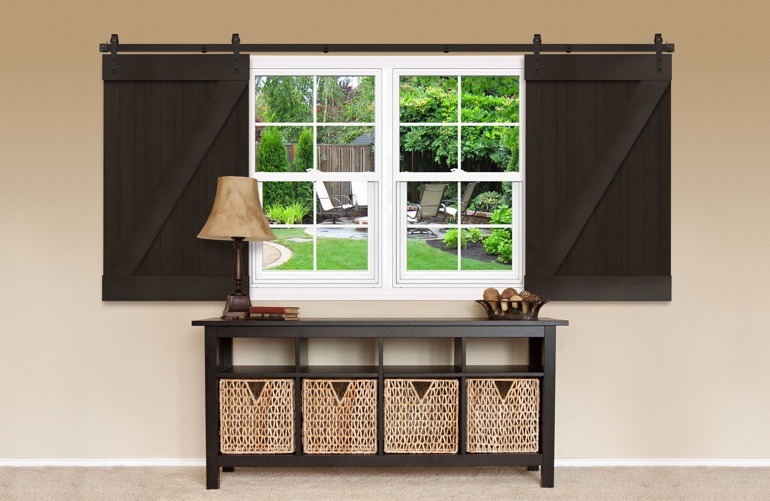 You can also have barn doors mounted as a substitute for closet doors. Hiding your messy clothes is now as easy as sliding the doors closed. Don't forget that barn doors require wall space on either side of the closet in order to glide smoothly - and for you to reach your entire wardrobe.
Mount sliding barn doors over a wall-mounted flat screen TV to hide the black void over the mantle when you're not watching. We custom build the barn door panels to the dimensions of the TV. In addition, the tracks are carefully placed so as to accommodate for the depth of the wall-mounted screen.
3. What Barn Door Styles Are Available?
Sliding barn doors come in a variety of options. This lets you customize their look to match your style. Here are some examples of sliding barn door style choices that homeowners in the St. George area purchased.
Modern Sliding Barn Door. Mini top-mount modern hardware. Three-panel barn door. Snow White paint.
Classic Sliding Barn Door. Top-mount Modern hardware. Plank barn door with standard top and bottom rail. Barn Red paint.
Rustic Sliding Barn Door. Arrow hardware. Standard Stile and Rail barn door. Weathered Grey stain.
For more stains, hardware, styles, and paint options, view the sliding barn doors page.
Bonus Design Tip For Barn Doors: Do It Yourself Or Hire A Pro?
Mounting sliding barn doors means determining if the wall structure is suitable, locating studs in the wall, measuring the dimensions of the door or window opening accurately, and bringing together all the pieces perfectly so the panels roll smoothly. With a home improvement project where errors could mean buying a whole new barn door set, it is always best to
hire a specialist
in the St. George area. Let the experts at Sunburst Shutters take care of the installation for you. We'll make sure everything is done right.